HK 51/53-SA (SEMI) SERIES)
Back in 1990 RDTS originated the HK51/53-SA for our semi-auto customers at their suggestion. Like all good ideas we have been flattered by imitations, but we're sure you'll see that our experience and pursuit of ongoing improvement will guarantee you the superior upgrade.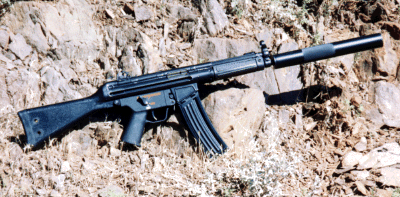 IDENTICAL TO THE HK51/53-IMP
See HK51/53 for specs
RDTS HK 51/53-SA is manufactured identical to the HK51/53-IMP with the exception that it is a non NFA regulated semi-auto with a 16 1/4" barrel and legal to own as a semi-auto firearm. . We need to point out that the Semi-Auto version designated HK51/53-SA is offered for those who want a very individualized (different) weapon than what is offered from the HK factory. The exact same procedures are followed in both the HK51/53-IMP and the HK51/53-SA the only difference being that the RDTS HK51/53-IMP has a 8.3" barrel.
IT WILL HANDLE FULL AUTO
We have had customers that wanted to move their sear around without dedicating it to one weapon with a short barrel or having to paper that weapon as an SBR, this weapon can handle the rigors of full-auto, its not a safe queen! Our "Improved" modifications also make it OK to use a Choate side folder.. which would beat up other HK51/53's
DEFINITELY UNIQUE
Our customers have made suggestions and we have listened!
We offer the HK51/53-SA in several configurations to that our customer can personalize his weapon.

1. Standard profile barrel with your choice of 5 1/2" Comp or Flash hider for a lighter weight weapon


2. Available with a heavy profile barrel extension with a Flash hider permanently attached.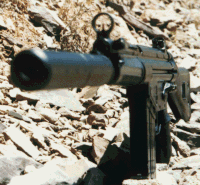 3. Our Favorite...The HK51/53-SA with our replica suppressor that looks identical to our HK51/53-IMP with our real suppressor .
VALUE AND DESIRABILITY
Because an HK51/53-SA is built virtually identical to the HK51/53-IMP it can be transformed into one simply by adding a registered machinegun trigger group and machining the barrel to 8.3". We need to do a little something extra, just call us when your ready. Something to consider if you live in a restrictive state and may move to a machinegun state in the future.
CHECK OUT OPTION SECTION FOR DETAILED DESCRIPTIONS OF FOLLOWING OPTION

HK BLACK OR CAMO FINISH
FACTORY COMBAT MAG FLAP
SK INDUSTRIES SUREFIRE FOREARM WITH LASER
FBI SEMI AMBIDEXTROUS TRIGGER GROUP
This is a semi-auto pushpin trigger group that looks identical to the 2 or 3 shot burst groups. It has the same bullet markings and is ambidextrous. We machine the housing to go on a semi type receiver block and add our machined pushpins to the front ears for that authentic look!
PLASTIC SEF HOUSINGS FOR SEMI AUTO
Modified for your semi internals to fit on a semi type receiver and machined pushpins on the front ears for the factory look.