HK MP5KSD HE High Efficiency
The following information applies to both the MP5KSD and the SP89SD H.E. The MP5KSD H.E. comes standard with a 10" Suppressor with suppression so effective that mechanical action noise is all you'll hear! On special order RDTS can supply suppressors 6" long on up for specialized applications i.e. SWAT entry etc.

READ MP5SD SECTION FOR COMMON DETAILS
Please read all the information in our MP5SD section. The manufacturing techniques and descriptions are identical and we don't want to sound repetitive on this section. The main differences will be suppressor length which is standard at 10". Also the machined steel handguard cage is shorter to accept the shortened factory spring steel backed rubber handguard.
BARREL LENGTH
The barrel of the SP89 is 4.56 in length as opposed to 5.75" on the MP5SD. Since the bullet velocity is reduced to sub sonic speed the shorter barrel length doesn't affect the accuracy appreciably in the ranges this weapon would be used at.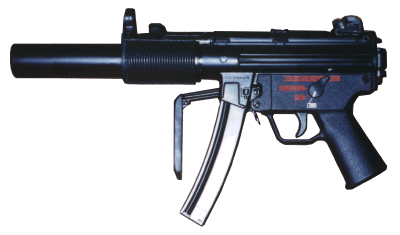 ON YOUR SEMI OR FULL AUTO
Our MP5KSD has great collector value in that it an extremely unique weapon. It is only manufactured by us RDTS and can be individualized as our clients tell us what the want. Also for those with registered sears it's a real bargain. With your registered sear group you have a real MP5KSD which is select fire and suppressed. It is one of the most controllable very compact submachine guns you could every wish for! Or since your sear does not have to remain on the weapon because it's a pistol, shoot it as a suppressed pistol in semi. Plus if you remove the sear and suppressor, and replace the suppressor with one of our "REPLICA SUPPRESSORS" you are totally semi-auto only state legal. Be sure to remove any stock BEFORE pulling the sear group out or you'll be in possession of an unregistered SBR.
MP5K/MP5KSD "K-9" SIDE FOLDING STOCK
Were sorry but parts have become unavailable for some years now. If you have a line on Mini-Uzi Side Folder please give us a call.
RDTS has the perfect side folder for your MP5K. Our "K-9" side folder owes its design in part to the world renowned Mini-UZI side folding stock. If you've seen one you already know its STRONG and has a VERY POSITIVE LOCKUP. The RDTS "K-9" side folder stock offers your cheek a place to rest for sighting. The "K-9" side folder works great with a ARMSON OEG (Occluded Eye Gun sight) or AIM-POINT type sighting systems. This one won't leave your face floating while you try to align your sights! The stock base is a modified Choate PDW back plate, same as factory HK so you know it wont rattle or come loose. It is bead blasted and refinished with the same baked on EXACT HK BLACK that we use on our weapons! Our supply of these and prices depend on availability of the stock and components. We love this item on our MP5K "K-9", IT'S GREAT! NOTE: You cannot put the "K-9" Side folder on an SP89 Semi unless you have your registered full-auto trigger group and no re-registration as a short barreled rifle is necessary.
MP5K/MP5KSD SIDE FOLDER (GALIL STYLE)
We have been using a Galil Style Side Folder with great success. We will try to post some pics soon.
REPLICA SUPPRESSOR ADAPTER
Shoot your MP5KSD/SP89SD without your suppressor. We have a customer that uses his MP5KSD in pistol competition and wanted a way to shoot without the suppressor and also the capability to use a flash hider or compensator. This is what we came up with. You can take this weapon to states that don't allow suppressors. We offer this and a longer replica suppressor on our MP5KSD/SP89SD Replicas.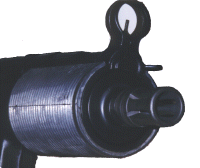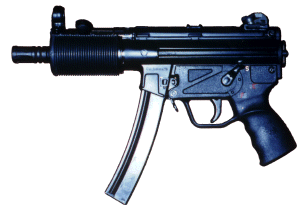 CHECK OUT OPTION SECTION FOR DETAILED DESCRIPTION OF FOLLOWING
OPTIONS FACTORY COMBAT MAG FLAP

3-SHOT BURST AMBIDEXTROUS

PLASTIC or STEEL SEF GROUPS